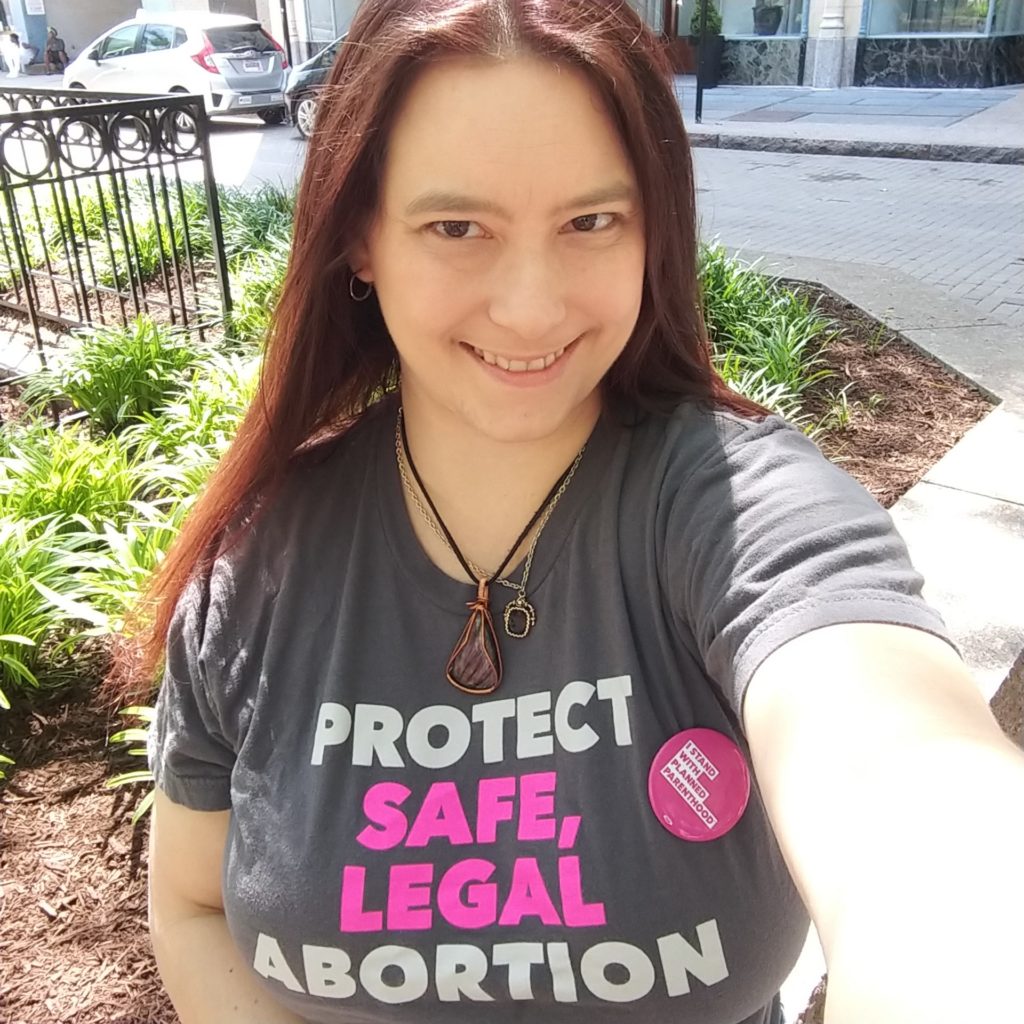 Last summer I was asked to speak at a #stopthebans rally in Cincinnati to join together against the TRAP bills (Targeted Restrictions on Abortion Providers) making their way through the Ohio government at the time. Since I decided to revamp my site and begin this page I have been trying to decide the best way to start the conversations I wanted to speak on–which topic did I want to broach first? Why pregnant people have abortions? What a doula shift looks like through my eyes? That every reason a pregnant person has for getting an abortion is, in fact, "good enough"? This morning I knew. A large part of what I do as an abortion doula is advocacy. I say the word abortion, I inform people of all the things I mentioned above, I work to break down stigmas. Of course the best way to kick this whole thing off is with the rally speech I wrote in June. So welcome to my world as an abortion doula. Now…let's talk about abortion.
#stopthebans, The Speech
Good evening, everyone! My name is Lindsay and I am an abortion doula volunteer and an abortion advocate. I sit with pregnant people before, during, and after their abortion procedures. I offer non-judgmental and non-medical advocacy and support for people who are considering and who are going through the abortion process.
We believe and uphold the views of reproductive justice. We recognize that pregnancy, birth control, and abortion access is not just an issue for women—it is an issue for any person, including trans and non-binary, who has a uterus. Abortion access and rights affect all races, all ages, all income brackets, all education levels, and all genders. In talking about abortion access we cannot neglect any person who needs to be included in this conversation.
My fellow abortion doulas and I see every day the importance of abortion access and support for those making the choice to terminate a pregnancy. Every person has a reason for terminating their pregnancy, and EVERY REASON IS VALID.
People choose abortion because they've been raped. Because continuing a pregnancy will force them to stop taking life-saving or life-prolonging medication. Because they have five children. Because they are 15. Because they are 50 and have grandkids. Because their pregnancy illness has kept them from work for weeks and they are about to lose their job. Because their doctor refused their request for tubal ligation. Because their birth control failed. Because an abortion will give them the opportunity to leave an abusive situation. Because they don't want to have children now. Or later. Or ever. Because their family doesn't believe in sex before marriage and they can't tell anyone they know that they are pregnant. Because so. many. different reasons that are nobody's business but their own.
Every person deserves access to necessary medical procedures, and abortion is a necessary medical procedure. Abortion is health care. Abortion is a human right. FULL STOP. No exceptions. No limits. We believe this, and we must. not. be. silent.
Chant with me: ABORTION RIGHT'S A HUMAN RIGHT.
Over 19 abortion bans have been passed in 2019 alone as part of a national effort to end abortion access. In Ohio alone we have seen 22 abortion bans and reproductive health restrictions passed since 2010. Due to efforts in Missouri, the last remaining clinic to provide safe access to abortion there could soon close. Without that clinic, Missouri would become the FIRST STATE in the US without an abortion provider since 1974!
WE KNOW: Banning abortion DOES NOT end abortion.
WE KNOW: Banning abortion ends safe, legal abortion and puts the lives of so many at risk.
WE KNOW: Attacks on abortion access have a disproportionate effect on people of color, LGTBQ people, and people with low incomes, and can leave them with no options at all.
We know all this. We also know We Won't Go Back. Ohio recently passed a six-week ban on abortion. Planned Parenthood is fighting that ban, just as it is fighting too many other similar bans across the country. Abortion is still SAFE and LEGAL and AVAILABLE in ALL FIFTY STATES including Ohio. We will continue to fight to keep access SAFE and LEGAL and AVAILABLE. We will FIGHT. LIKE. HELL. to protect our bodies, to protect our rights, and to protect our families and our futures.
To win this war we need EVERY SINGLE ONE OF YOU. We need every story, every voice, and EVERY community talking about abortion access and why it matters. So today, I come to you with three Calls To Action. First: Before you leave today sign one of these Planned Parenthood supporter cards to keep up with the work Planned Parenthood is doing to protect and advocate for reproductive rights. Second: Pull out your cell phones and text NOBANS –all one word! –to 22422 to sign Planned Parenthood's national petition against all the abortion bans popping up all over the country. That's text NOBANS to 22422. FINALLY: When you leave here today, DO NOT STOP THE CONVERSATION. 7 out of 10 people—70% of us!—believe that Roe should stand.
1 in 4 pregnant people will have an abortion before they turn 45. WE ALL KNOW PEOPLE WHO HAVE HAD ABORTIONS. WE ALL LOVE PEOPLE WHO HAVE HAD ABORTIONS. We MUST keep our voices strong, and steady, and inclusive, and HEARD.
And, if you will, one more quick chant before I hand over the mic: Not the Church, Not the State, PEOPLE must decide our fate!